Regular dental care is a necessity to ensure your horse's health, well-being and top performance. Louis recommends the following regular dental checks:
Foals: at birth.




This allows any problems that may be congenital to be dealt with and to be recorded. It's also the easiest time to imprint the foal for acceptance of future dental maintenance

Horses up to the age of 5: every 6 months.




These regular checks allow monitoring of the shedding process of the milk teeth, checking for retained caps and slivers as well as sharp edges on molar tables.

Mature Horses (approx. 6-18 years old):




In this age group one-year intervals on a balanced mouth and 6 month intervals on an abnormal mouth are usually sufficient. However, some horses may need dental care more often.

Geriatric Horses: varies from one individual to the other.




Older horses may require frequent dental care, depending on the condition of their teeth.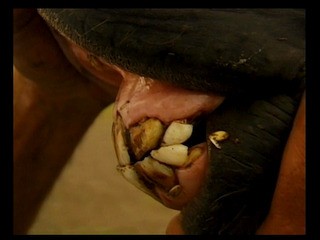 Click on these links to learn
Furthermore, a remaining stock of Louis' introductory video on equine dentistry for horse owners is available (only in german language, sorry).
Please contact us for an appointment.
Know also that some horse dentists claim to be trained by Louis although they are not. Ask for a list of former students to see who has participated in his program.
"Mr. Pequin provides an invaluable service to horses with quality results."
Marlene Marcotte, Horse Owner, Valleyview, AB, Canada

"I have had my horses treated by Mr. Pequin on several occasions and I verily believe that the work he did positively influenced my horses behavior and gait."
Dr. Dennis F. Gress, Veterinarian, Valleyview, AB, Canada

"..thanks to Louis Pequin and his talents my kids still have their horse, which before the treatment was about to die. Need I say more?"
Theresa Peck, Horse Owner, Drayton Valley, AB, Canada